ostatnia aktywność: 18 wrzesień 2020 o 12:37:23
Znajdujesz się w: Strona główna > Profil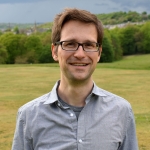 dr
Andrew Tompkins
Gabinet: 128
Adres e-mail: no-reply@uni.wroc.pl
Przebieg kariery:
od 2020: badacz na Uniwersytecie Wrocławskim i na Universität Erfurt w ramach projektu "Working the Border: Policing Labor along the Polish-East German Border, 1980-1989" (finansowany przez DAAD)
od 2016: wykładowca (Lecturer) na University of Sheffield (Wielka Britania)
2013-2016: badacz na Humboldt-Universität zu Berlin
2012-2013: wykładowca na Balliol College, University of Oxford
2008-2012: Studia Doktoranckie Historii Europy na University of Oxford
2007-2008: Studia Magisterskie Historii internacjonalnej na University of Chicago
2004-2005: Studia Magisterskie Nauk Politycznych na University of North Carolina at Chapel Hill oraz Institut d'études politiques de Paris (Sciences Po) i Humboldt-Universität zu Berlin
Specjalizacje badawcze i dydaktyczne:
historia transnacjonalna (szczególnie Niemiec, Francji, Polski)
historia środowiskowa
ruchy społeczne, protest, rewolucja
Wyjazdy naukowe, funkcje, członkostwa, wyróżnienia:
Fellow of the Royal Historical Society (od 2017)
Humboldt Post-Doc Fellow, finansowany ze środków German Universities' Excellence Initiative (2013-2016)
Bourse post-doctorale du Centre Marc Bloch (2012-2013)
Stypendysta DAAD (2011-2012)
Stypendysta Merton College oraz Clarendon Fund i Overseas Research Studentship na University of Oxford (2008-2011)
Stypendysta Dywizji Nauk Społecznych, University of Chicago (2007-2008)
Stypendysta FLAS Języka Obcego i Studiów Regionalnych (2004-2005)
Granty na podróże przez: Biura Uznawalności Wykształcenia i Wymiany Międzynarodowej (2014, 2015, 2016), Oxford-Uppsala Exchange (2011), German History Society (2011), Society for the Study of French History (2010), Colin Matthew Fund (2009), Merton College (2009, 2010, 2011), FLAS Summer Fellowship for Russian (2008)
Języki pracy naukowej:
angielski
niemiecki
francuski
polski
Publikacje
Monografie:
Better Active than Radioactive! Anti-Nuclear Protest in 1970s France and West Germany, Oxford University Press (Oxford Historical Monographs series), 2016. (265 pp., ISBN: 978-0-19-87705-6) [https://global.oup.com/academic/product/better-active-than-radioactive-9780198779056].
Wybrane artykuły:
'Caught in the Net. GDR-Poland Border Conflicts in Everyday Life', Central European History, special issue 'Policing the Borders of the GDR: Transnational and Global Approaches' (forthcoming).
ʻGenerating Post-Modernity. Nuclear Energy Opponents and the Future in the 1970s', European Review of History / Revue européenne d histoire, Special Issue "Time and Activism: Ruptures, Experiences, Aftermaths" (forthcoming).
'Binding the Nation, Bounding the State: Germany and its Borders', German History, Vol 37, No. 1, 2019, pp. 77–100 [https://doi.org/10.1093/gerhis/ghy116].
'Grassroots Transnationalism(s): Franco-German Opposition to Nuclear Energy in the 1970s', Contemporary European History, Vol. 25, No. 1, 2016, pp. 117–142 [https://doi.org/10.1017/S0960777315000508].